Follow Hida road to the north.
The Hourai Sake Brewery is located in "Hida-Furukawa", a town nestled in rich, exalting surrounding.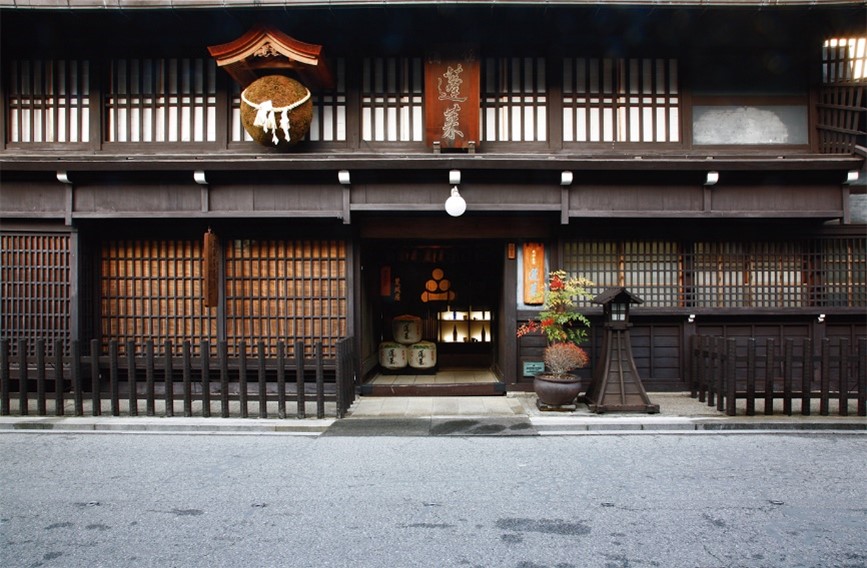 Home to Hourai Sake Brewery, the town of Furukawa is located in Hida, the northernmost city in Gifu Prefecture. With an elevation of more than 3000 meters, it is geographically positioned in the Furukawa Basin, which is surrounded by the Northern Alps or Hida mountains. Ryotaro Shiba, a Japanese author, offers the following description: (On the highways) "The streets of Hida-Furukawa offer an amazing amount of elegance with old customs. You can feel its unmasked demeanor, expression and charecter only because it has not been developed for the tourist." Old merchant homes line the town of Ichinomachi with latticed bay windows, giving a relaxed appearance. The warehouses enclosed by whitewalls and waist-high black partitions continue along the Setogawa river, where a damp atmosphere pervades even now.
When entering the Hourai Sake Brewery, you pass through a deep blue entrance drape called a noren. Upon entering, you feel a tranquility and a denseness in the air there, which is unique to long-standing establishments and emblematic of its history as a brewery of vintage sakes. In 1732 (Kyoho era), Kyuemon Watanabe I started the family business here under the name of "Kojoya." Thereafter, Kyuemon III started a finance business and, at the same time, a raw silk business with customers in Kyoto, which proved to be profitable.
Kyuemon's sake was regarded as "exquisite golden drops". That sake would later become known as "Hourai."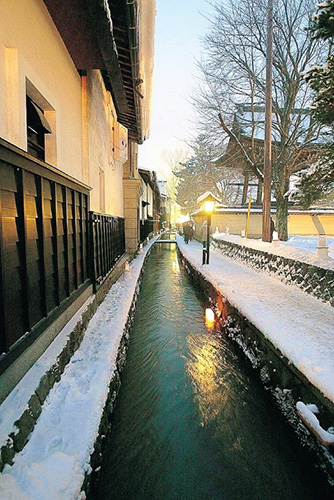 Akira Kyuemon V began the sake brewing business in 1870 (Meiji period). Traveling to Kyoto to sell his raw silk, Kyuemon was so impressed by the unforgettable taste of sake there that he set up a brewery after returning home, became absorbed in its delicious taste and started a brewing business. The sake he created became an instant hit. Records note that at banquets, people drank the flowing sake, and became drank on those 'exquisite golden drops'while singing noh songs. It was at that time that the name "Hourai" was selected from a verse in the noh song "Tsuru kame" that was sung. "Hourai" refers to the earthly paradise of immortality told by an unworldly man living in the mountains. The word "Hourai" became a "sake watchword," used to bestow delight or happinesson others and good fortune.

After touring famous sake brewing regions throughout the country during the Meiji, Taisho and Showa periods, and working hard to acquire and hone our sake-making techniques, we have spared no effort in brewing the finest sakes, sticking to quality-oriented practices. As a result, our sakes have been awarded top ranking in numerous tasting competitions. Writers and artists visiting Hida have become very fond of our products, and these visitors have slowly built up our name and put us on the map. Our fine sakes have received high praise and come to represent Hida. Taking root in the area's climate, the locals have continued to relish our sake as both a small cup of joy in their lives and a staple during each season.